i20 Ex 2-22 – Industrial indicator for explosible atmosphere
The i20 Ex 2-22 industrial indicator is a precise, simple and user-friendly professional and industrial product that results from PRECIA MOLEN's experience, know-how and research skills.
Compliant with the 94/9/EC directive, it can be installed in hazardous area for all risks related to the presence of dust (zone 22) and/or gas (zone 2).
It stands out for the following qualities:
Industrial use design (robustness, waterproofness, ease of cleaning).
Ease of use.
General use: connection to one or several load cells, tabletop, column or panel mounting.
Manufacturing quality, material quality (304L stainless steel).
Modern technology with FSC-LCD colour display.
ATEX certification
• Compliance with the requirements of the 94/9/EC directive related to protection devices and systems designed for use in explosible atmospheres.
• Marking according to EN 60079-0:2012
– II3G Ex nA IIC T6 Gc
– II3D Ex tc IIIC T85°C Dc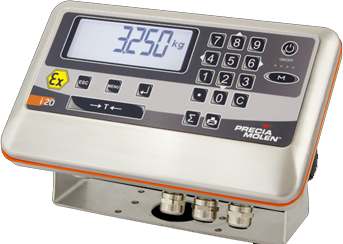 The other products in the range