Platform scales R1 GM / R1 GM-S Range
Especially designed for intensive use, PRECIA-MOLEN's R1 GM range platform scales are equipped with a single point load cell making them extremely reliable and ensuring optimum accuracy. They are suitable for tabletop, work bench or floor installation.
The new technology applied to this range of platform scales provides a lighter yet more robust construction when compared to conventional scales of this type.
The R1 GM scale platform is available in two versions: steel (Std) and stainless steel (Ti), and in four platform sizes: 400 x 400 mm, 500 x 400 mm, 600 x 600 mm and 800 x 600 mm. The 400 x 400 and 500 x 400 models are fitted with a stainless steel plate as standard.
The standard IP 54 version is constructed in mild steel and has a polyurethane lacquer finish.
The Ti IP 67 version is entirely constructed in stainless steel type 304 L and is equipped with a stainless steel load cell (except 800 x 600 is equipped with a "self-curing" aluminium load cell).
The R1 GM platform scales may be combined with a selection of PRECIA-MOLEN indicators for trade (3,000 e or 2 x 3,000 e) or non trade applications.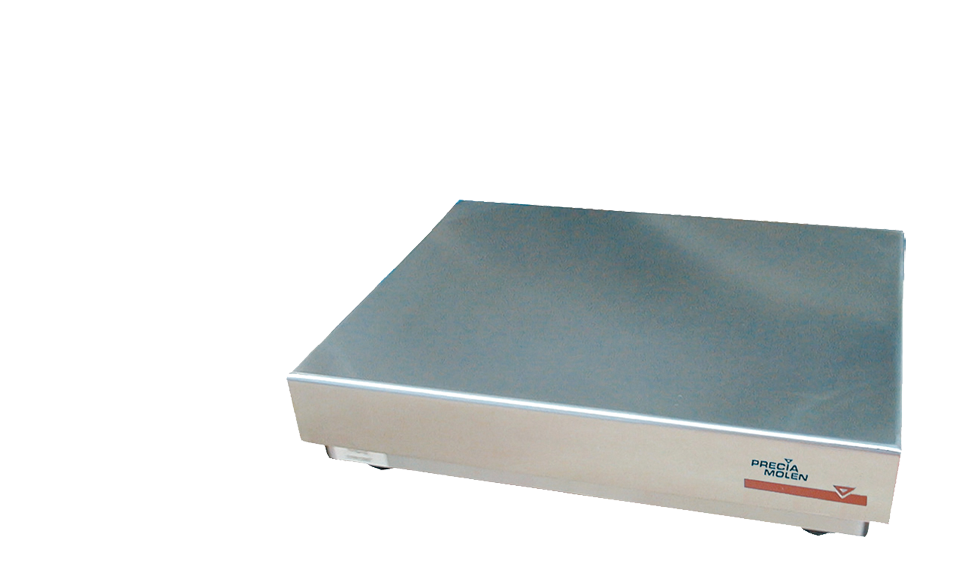 The other products in the range