Weighing indicator i25 Touch
Forget all you know about weighing to discover an exceptionally fluid and qualitative user interface!
In line with the i-series electronics, the new i25 Touch indicator is versatile and offers eight weighing modes, accessible from one or two weighing platforms :
calculation
formulation
batch weighing
animal weighing
control
sum
formulation control
counting
His innovation? The intuitive and customizable interface that allows to manage the products, to compile data and information in batches or to have statistical results in real time, all at a distance. Control a weight match at a glance with the Color Weight function. Custom configuration is available by simply touching the high resolution touch screen. The i25 Touch has two processors and is made of premium materials, the trademark of PRECIA MOLEN.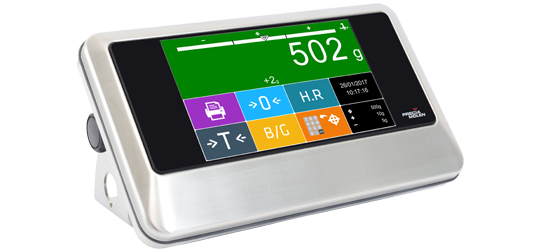 Functions
8 weighing modes
Native multilingual
Intuitive interface
Real-time graphic data
Customisable screen-saver
Connected !
USB
Bluetooth
Wifi
Weigh2Go
Characteristics
IP 66 protection complying with CEI 60529 standard
Designed in 304L embossed stainless steel
7" touch screen / 800 x 400 resolution
The other products in the range